Best Value for Cord Blood Banking
Choose the best plan for your family
Transparent pricing. No unexpected price increases. World-class stem cell processing.
Pricing includes processing and storage costs.
Payment Options:
One-time ($3,299)
24-months ($137/mo)
Potential Treatment Uses:
✓ Cancers
✓ Blood Disorders
✓ Bone Marrow Failure Syndrome
✓ Metabolic Disorders
✓ Immune Disorders
Cord Blood,
Cord Tissue, &
Placental Tissue
Payment Options:
One-time ($6,599)
24-months ($275/mo)
Potential Treatment Uses:
✓ Alzheimer's
✓ Lung Diseases
✓Orthopedic Surgery
✓ Wound Healing
✓ Eye Conditions
✓ Graft vs Host Disease
Payment Options:
One-time ($5,699)
24-months ($237/mo)
Potential Treatment Uses:
✓ Autism
✓ Cerebral Palsy
✓ Diabetes
✓ Multiple Sclerosis
✓ Orthopedic & General Surgery
Potential additional charges: $199 collection kit. $79 shipping. $189 optional rush handling fee.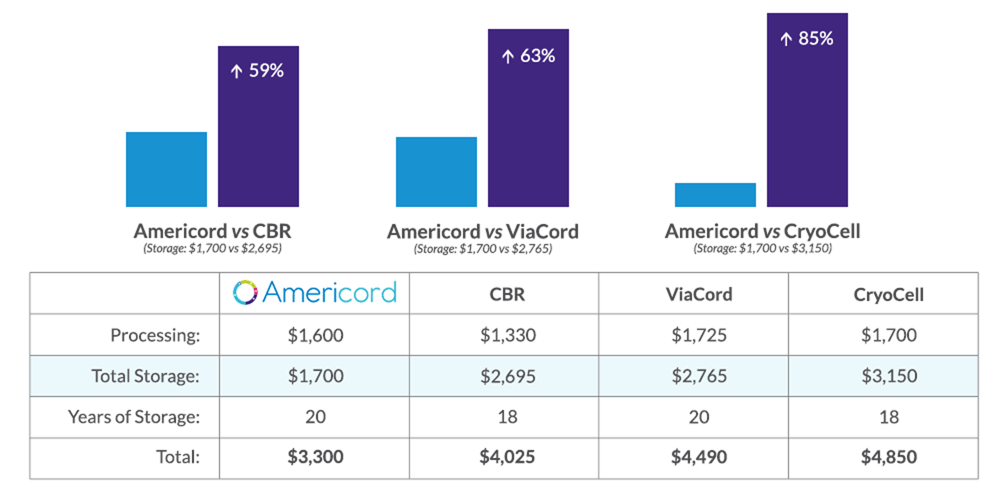 Pricing reflects 18- or 20-years of storage for cord blood banking at a one-time payment. Discounts, shipping, or additional fees not included. Last updated 4/27/2022.

CryoMaxx™ Processing maximizes endless stem cell utility

Five Compartment storage bags to maximize utility

Industry's highest quality guarantee: $110,000

Parent's #1 choice for cord blood and stem cell banking

White-glove medical courier service

FDA Regulated & AABB Accredited*
No Compromises.
No Cut Corners.

At Americord, we provide the highest-quality stem cell processing and the lowest storage rates in the industry, without cutting corners or compromising our level of service.

Our Stem Cell Consultants are here to help. Chat now or schedule a free consultation.
You only have one chance to bank your baby's stem cells, and that's the day they are born.
Make sure you choose the company that has the best processing methods to ensure the health of your family for generations:

Why is Stem Cell Processing Important?


(And why you should be wary of others who discount processing.)
Processing your baby's stem cells is the most important step of the preservation process. How they are handled, processed, and prepared for storage directly affects the usability for future treatments.

Cheaper processing costs means cheaper, corner-cutting processing methods.

At Americord, our scientists' primary focus is ensuring the highest-level quality processing, each time. CryoMaxx™ Processing maximize stem cell usage and utility, giving families more options for more treatments.
Beware of frequent price hikes with annual plans.



Many families with annual payment plans for stem cell storage experience frequent annual rate hikes.
Many cord blood banks promote "no price increases," but their stem cell storage contracts contradict this messaging. They can increase rates without customer consent.